Professional History
Board Certified: Yes
Certifications: Orthopedic Surgery
Education
Louisiana State University Medical School
New Orleans, LA
Residency
University of Oklahoma
Oklahoma City, OK
Fellowship-Training
Trained at the Mayo Clinic
Rochester, MN
Membership
American Hip and Knee Society, American Orthopedic Board
Associations
American Hip and Knee Society, American Orthopedic Board
American Academy of Orthopedic Surgeons
Clinical Interests
Joint Replacement
Minimally Invasive Surgery
Knee Replacement
Hip Replacement Anterior Approach
Health Plans Accepted
Additional Information
Hobbies: sports, American sports cars and classics
Accepting New Patients: Yes
Articles
In December 2016, Dr. Khalid Yousuf received the Healing Hands Award at Little Company of Mary Hospital (LCMH). Physician nominees for this award must exemplify LCMH's core values of Professionalism, Compassion, Quality, and Responsibility. Two patients nominated Dr. Yousuf and listed the below reasons why he is so very deserving of this award:
Dr. Yousuf is an excellent Orthopedic surgeon, but also has an exceptional bedside manner. Dr Yousuf spent as much time needed to answer my grandparents' endless questions. When we experienced some unforeseen post-op complications, Dr. Yousuf went out of his way to call me and keep me up to date with everything going on. I have worked with many Orthopedic doctors, and very few take the time and effort that Dr. Yousuf does. I have recommended him to many people.
In May, Dr. Yousuf replaced my right knee. Being 88, I wasn't sure there was anything that could be done; however, the pain became unbearable. Dr. Yousuf thoroughly explained my options and helped me make the best decision. I cannot tell you how amazing it is to wake up pain free. I am able to walk a mile, golf and play with my great grandchildren. Dr. Yousuf helped me gain more freedom in my life and I am forever grateful.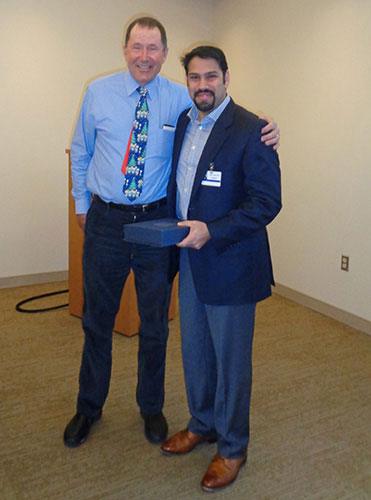 After Knee or Hip Replacement, No Place Like Home
Growing numbers of Americans are outliving their joints. More than a million operations are done annually to replace worn-out knees and hips, and that number is expected to skyrocket in the coming decades as the population ages.
South Side Man Dancing Irish Jig After Successful Knee Replacement at Little Company of Mary Hospital
After a consultation with Dr. Yousuf, a personalized treatment plan was created. John was scheduled to undergo a total knee replacement during the summer.